I'm not sure where the month went.  It seems like it was Christmas, and suddenly it's almost Valentine's Day.
A few updates are overdue…
Alyssa will be seeing a neurologist later this month. She was recently diagnosed with Asperger's Syndrome, ADHD and Sensory Processing Disorder (we've assumed the last part since she was 3 years old…) She is just – Alyssa! Her idiosyncrasies are what make her who she is. While we don't want to change her personality, we do need to address how difficult is has become for her to sit and concentrate.  Schooling has become a major challenge and I'm finally at the point that I will consider options that I wouldn't have previously (after all, I excused ADHD as "an excuse for poor parenting". Boy, God sure does have a sense of humor, doesn't He?) I'm excited that help may be available to bring Alyssa's activity level down enough that she can complete a task without constant hand holding (she is 9, after all…)
She has, for the time being, stopped occupational therapy (we are watching for regression and also, any sudden advances that would indicate she will be able to make more progress.) She will be starting speech therapy for a frontal lisp/tongue thrust and social skills training in the next couple of weeks.
I AM HOME! I've finally been able to stop working outside of the home (as of last Tuesday) and am working on a list of tasks that I need to accomplish, as well as a general "mission statement" for my life in this current season.
Our home needs to be organized. There, I said it. I have never organized things and still have closets (and an entire garage) full of boxes I have yet to unpack. It's time to purge, yard sale, and actually be able to find what I need, when I need it. It's overwhelming to think about – but the fact is, it is required, not optional.
I also need some encouragement in the homeschooling arena. We'll be attending the Southeast Homeschool Convention in Greenville, SC (staying with my mom and she and my step dad will be attending the sessions with Ken Ham.) Alyssa is excited to participate in the Children's Program and also, to see Tim Hawkins! (By the way, can anyone recommend a good program for grammar? We've only done Expode the Code to learn reading and it's time for some reading rules…)
I'm glad that Spring is around the corner! I plan to begin starting seeds indoors in the coming weeks (once that area is cleaned out!) and I'm on the prowl for a Pink Lemonade Blueberry bush.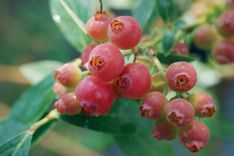 So, I have a ton on my plate but am excited to be able to focus on my home and family, once again. Thank you, Lord, for your provision and direction.
Thanks for reading!